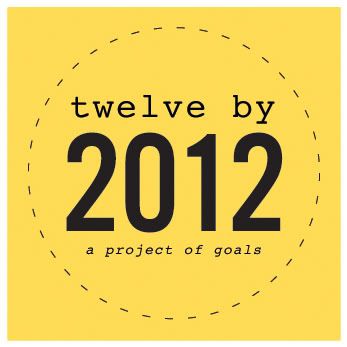 Since it is now 12/12 (December 12 that is) it seemed fitting that I would give a 12x12 update. In October I made a list of
12 things
I wanted to do before the end of the year.
Finish reading A Quest for More by Paul David Tripp.
I have progressed two more chapters in. Good thing I'm a fast reader. Since I get two weeks off from work before the end of the year I anticipate finishing this by Christmas!
Learn how to cook a steak and invite a few friends over for a steak and taters dinner.
Pending...but planning for next week! Just have to decide which friends to invite....
Plan and go on a roadtrip (Santa Barbara or San Luis Obispo are the two top picks currently.)
Due to the craziness of the holidays and out of town visitors, the trip was canceled.
Deep clean and organize my desks at work and at home - currently driving me crazy!
*Kind of cheated with this one.... At work: had to move cubicles at work so I left behind my dirty and messy desk to a new one that was already cleaned off for me. I did throw away things I didn't need. At Home: My desk turned into our dining room table for the time being and all my knick-knacks that were cluttering my desk are still in boxes...that are neatly stacked in the corner.
Move into my shared bachelorette pad!
After finding a two story, two bed 1.5 bathroom townhouse, in the most perfect for us area, we a had successful moving day on December 3 that went off without a hitch. While I worked hard at unpacking, still in the process of nesting though I can't manage to get myself to commit to any wall art.
Take Caltrain into The City....and spend the day in the city exploring on my own.
Find a flea market and go vintage shopping.
*Went to an antique mall yesterday, and while that was cool, I'm not counting it since everything cost an arm, a leg and my first child.
I started a makeup portfolio earlier this year...I need to update it with more current photos. Or just figure out what in the world I want to do with it, in general.
*Decided that makeup artistry will remain a hobby for me, mainly used when friends need my help. Might update the portfolio in the future but no need to do so now.
Speaking of makeup....deep clean and wipe down all my brushes, cases, bags and products. This one could take a whole evening, i'm sure
*Cleaned ALL the brushes on Friday night for an early morning bridal party. But, now they are dirty again. Will shoot to finish this one this week.
Bake a cake, from scratch. And if it doesn't turn out right, try it again.
*Will do either this week or next week. Hmm, should start looking for the perfect recipe for a rookie like me to try...
Walk for three miles without stopping.
11a. Take a hike in the fall weather.
*I think I'm going to do this on Saturday morning before my out of town guests arrive
Take a photo a day during the month of November! * Was close, but I'm pretty sure I didn't make it for every day in November...:(
and I'm now adding a few items:
Shoot the basketball around once a week. * Which means I have to go buy a new one, I guess since that one that I had fell out of the back of my trunk.
Make pumpkin mochi to thank our moving helpers!
Write Christmas cards with meaningful messages for co-workers and friends at church.
Visit extended family in Sacramento.
Hopefully I'll have an update with all these things checked off...and pictures too!